While on-page is all about optimization using factors present on your website, off-page deals with a set of techniques that focuses on other ways to improve the website's page ranking. In short, off-page search engine optimization is all about promoting your website through methods that are beyond the website's design and content. The focus is here is link building; social media and social bookmarking that can boost the overall view of your website.
So, is off-page really necessary when you're already doing on-page for your website?
Yes, it is.
Although you might believe that on-page is better for your website to improve its page rank and online visibility, off-page is critical to the success and growth of your business. While on-page improves the quality of your website and enhances its online visibility, off-page is an indicator of how the world perceives your business website. In addition to this, off-page also helps improve the domain authority, enhances online traffic rate and widens the website's online visibility.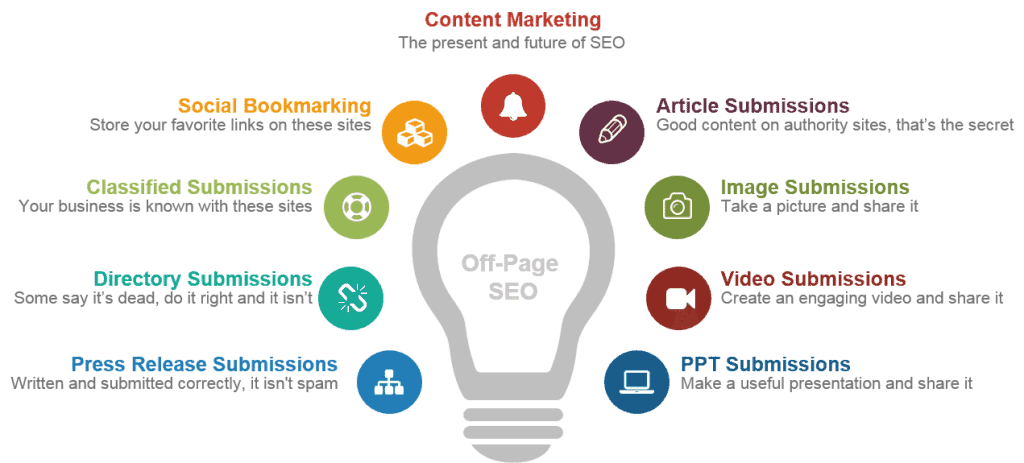 Dynamics
Link building is often considered to be the most popular off-page SEO method. It involves building external links to your website that can allow you improve your page rank. Adding external links to your website ensures that you have more links that lead consumers to your website. Using link building methods, your website can have a higher page rank and therefore bypass your competitors and get the advantage that can boost your business.
Webmasters have mastered their way into adding more external links to your website which could gradually improved the overall page rank of your website and ensure that there are a certain number of online visitors on your site. Adding more external links to the website ensures that there are more people on the internet that can click on the website link posted on different websites and get connected to your website. This is usually done through submission of your website factors to various submission websites. SEO professionals can submit your website links to directory websites, image submission sites, logo submission sites, toll-free number submission sites, classified submission sites, video submission, ppt submission sites, infographic submission and many other sites. Submitting your business details to a variety of high-quality directory websites can offer good quality backlinks. Webmasters also make use of article marketing and content marketing which allow them to add links to your website on various other high-quality PR websites which would act as high-quality backlinks to your business site.
On the other hand, off-page SEO also involves the use of social media platforms to spread information about your business website. It's hard to imagine business without social networking and therefore, off-page SEO professionals ensure that they use the potential of social media to promote your website online. Creating various social media profiles and posting your website links and information on social media helps target the niche audience that would be interested in buying your products and services. It also gradually builds brand awareness and allows your business to get in direct contact with potential customers. Getting wide exposure on social media websites like Facebook, Twitter, Pinterest or a selection of social media channels can help your business reach out to millions of potential customers and take your business to the next level.
While social bookmarking is not as popular as it used to be in the past, it still helps your website get better page rank and online visibility. SEO professionals make use of social bookmarking websites to submit your business website links across the web.
Conclusion
When used in the right way, social bookmarking, link building and social media sites can increase your webpage rank and online visibility. Off-page SEO methods make it convenient for webmasters to reach out to more people online and understand how the world perceives your business and brand. These methods are cost-effective and therefore an ideal way for startups to promote their business. Hiring professionals is an ideal way to optimize your business website because there are various factors that need to be taken into account while creating backlinks and connecting your business website link with other websites. Secondly, your off-page SEO efforts should look natural to search engines, or else there are chances that your web pages are blacklisted by the search engines which would impact your business negatively.