Effective search engine optimization can help improve the credibility of your business and enhance brand awareness. However, you need to ensure that you have an attractive business website that has all the right elements to optimize. While there is a lot said and written about the dynamics of SEO, there is not enough emphasis on different types of SEO. On-page SEO is essentially a set of optimization techniques that use on-page factors or elements of a given web page to influence search engine rankings. Every website has various factors that make it a complete website and using on-page SEO search engine optimization, professionals can exploit the features of it and use it to improve the page rank of their website thereby attracting more online visitors.
It makes use of every aspect of your business website to optimize it including website design. Search engine optimization professionals are aware of how to leverage certain useful features that work as per guidelines and rules provided by search engines. This can propel the page rank of the website higher up the order and more users can view the website when they search for relevant keywords.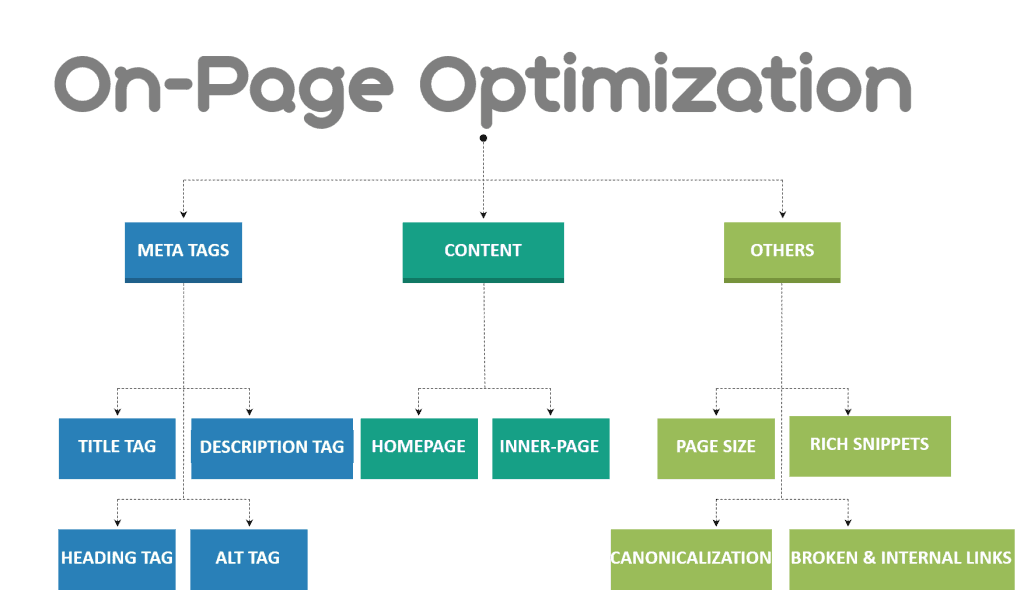 Content
Good content is what makes your website stand out from the rest of your competitors, but what exactly is good and reliable content as per SEO terms? Well, all content mentioned on the website must satiate the curiosity of the visitors, must be linkable and must be indexed. All content on the website is indexed by search engine crawlers. If the crawlers cannot index your website content your website will not show up in the search engine result pages. SEO professionals make use of various HTML codes and tags that allow crawlers to crawl your webpages efficiently and ensure that they are indexed so that they show up in the SERPs. Using on-page SEO, you can target the right audience and that makes it convenient for the businesses to improve their customer base.
Meta Tags
On-page SEO makes use of various factors like title tag, description tag, keyword tag, alt tag and heading tag to ensure that search engine crawlers understand the flow of your web pages and highlight your page on the search engine result pages for relevant queries. Using the right tags can allow search engines to understand the information available on your web page and highlights it when the right keywords are used by the users.
Webmasters also makes use of the links and ensure that these are placed correctly and provide a better way for the users to navigate the website. On the other hand, they also take care of repairing broken links that can impact your website's performance. Broken links can damage the reputation of your brand and drive away your potential customers and that can be fixed using on-page SEO.
While links and tags are an important part of the website content, on-page SEO also focuses on the actual content that can make or break the image of your business. The content available on your website home and inner pages must provide the right browsing experience to the users. Your home page content must be crisp, concise and should include the right keywords that can hook the readers instantly. It should also focus on the usage of right images that blend well with the content offering customers a seamless experience. On the other hand, content within the inner pages must be in-depth, informative, helpful and unique which would allow customers to get a clear idea of the products and services your business offers.
Conclusion
On-page SEO also focuses on other factors like length of content and the amount of time a web page takes to load completely as these can impact the customer's experience while visiting your website. Apart from this, you also need to focus on the responsiveness of your site and if it is mobile-friendly or not. Google has already found that there are more users searching the web through their mobile devices than from a desktop and therefore your business website must be quick enough to execute any command even from a mobile device.