A title is the most important element of any web page and a single website comprises of multiple web pages. Title tags, also known as title elements, are codes that make it easier for the crawlers to know what those pages are about and display the information in preview snippets on the search engine page results (SERPs) for SEO and social sharing. A title tag, therefore, is an accurate and concise description of a page's content.
A title tag is not only designed for the users to see what the page is all about, but also for search engines. Search engine crawlers use these words to index the page in the search directory. So, they work as a text hyperlink when users type in those words during the search process.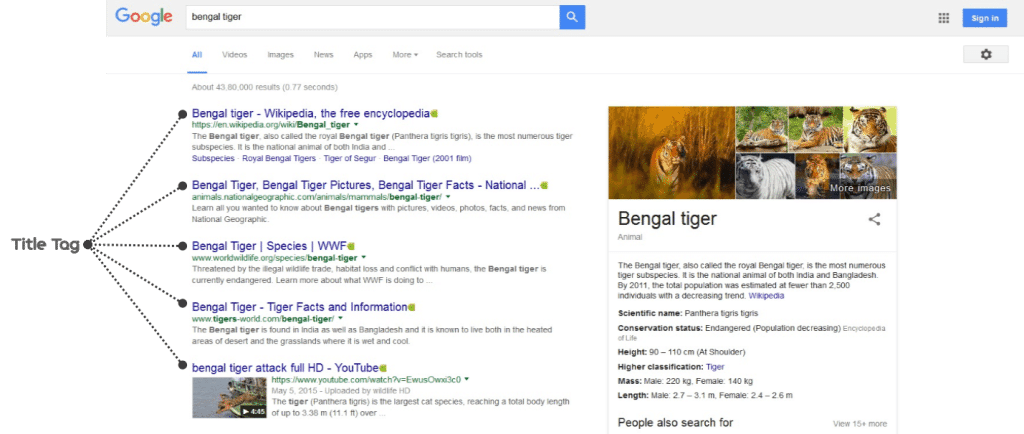 Why are Title Tags Important?
Title tags are considered as the most important of all on-page SEO elements because they can immensely improve your website's online visibility and boost page ranking. Title tags show up in the browser window, on search engine result pages, and on various external websites.
Title tags are often seen in the tabs of the browser window and that makes it easier for the users to browse through multiple tabs and windows while they are multi-tasking.
Search engines often use them as keywords that users type in during the search process. Hence, having it done right provides better visibility on the search pages which means your webpage will have a better click-through rate.
When you are promoting or sharing your webpages on social media or other external websites, the title tags of the web page will appear as its anchor text.
Recommendations to Optimize Title Tags
Title tags are not just about mentioning what's on the page; it also involves incorporating the best practices that make it a high impact element on the page. Since they are an important part of search engine optimization, it is recommended to hire professionals to optimize them effectively.
The length of the tag certainly makes an impact. Although there are no set rules about the length, keeping it short and concise will have a greater impact. Longer tags are shown with an ellipsis on the browser window and, therefore, loses its impact.
Incorporating important keywords is equally important while creating title tags. Keywords can improve site ranking and online visibility.
Using a brand name in the title tag is a great branding strategy. It is recommended to use your brand name along with the keywords that will make a difference on the search results page.
A compelling title tag can make all the difference to image of your business even before the user visits the website. It is the first interaction that users have with your brand when they find it on the search results page, so it has to deliver a positive and convincing message.